Back to: New Blogger Bootcamp [Pro]
So, it's actually helpful to go ahead and create a sample post or two or three (that you can delete later), as well as a few pages.
This way, you'll have SOMETHING on your site when looking at themes.
If your site has zero posts and pages, you wouldn't be able to properly tell if you like the theme or not.
Short lesson today:
What are posts and pages?
Posts – Here is where you will be able to create and publish new blog posts, view all of your published posts, and also manage blog categories.
Pages – Similar to posts, here's where you can create and manage your blog's "pages," such as "About Us" or "Start Here" or "Contact," etc.
FAQ – What's the difference between WP posts and pages? Simply put, pages are thought to be static and NOT attached to any particular date in time. Posts are dated and will show up in your "blogroll" (more on that in a second).

How to create a post.
So, this is incredibly simple.
In your dashboard, hover over "posts" and click "add new"
Write a title, write a blog post, add a featured image,
Hit publish.
Bootcamp's over. That's it!
JK.
Here's a basic tour of publishing a post.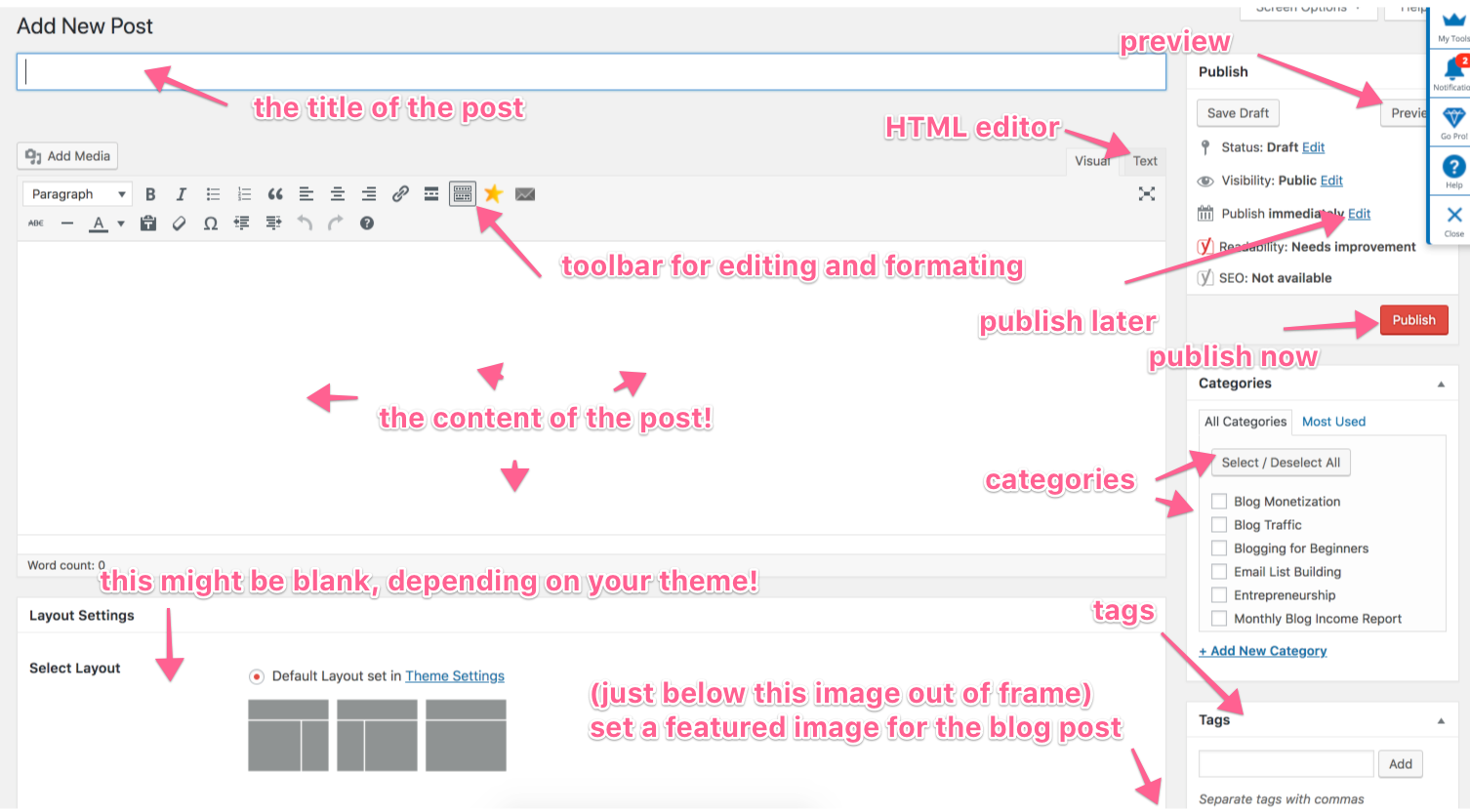 If you're a bit overwhelmed already, you'd be normal.
For now, I'd recommend creating a dummy blog post or two (delete em later) so you can better get a glimpse of what you're WP theme will look like.
Type a title, put some text in the content editor, maybe an image or two (clicking "add media" will do the trick, or just dragging and dropping images into the content editor works as well).
Briefly, the "all posts" dashboard:
In your WP dashboard, clicking "posts" or "all posts" will take you here:
Mostly self-explanatory 🙂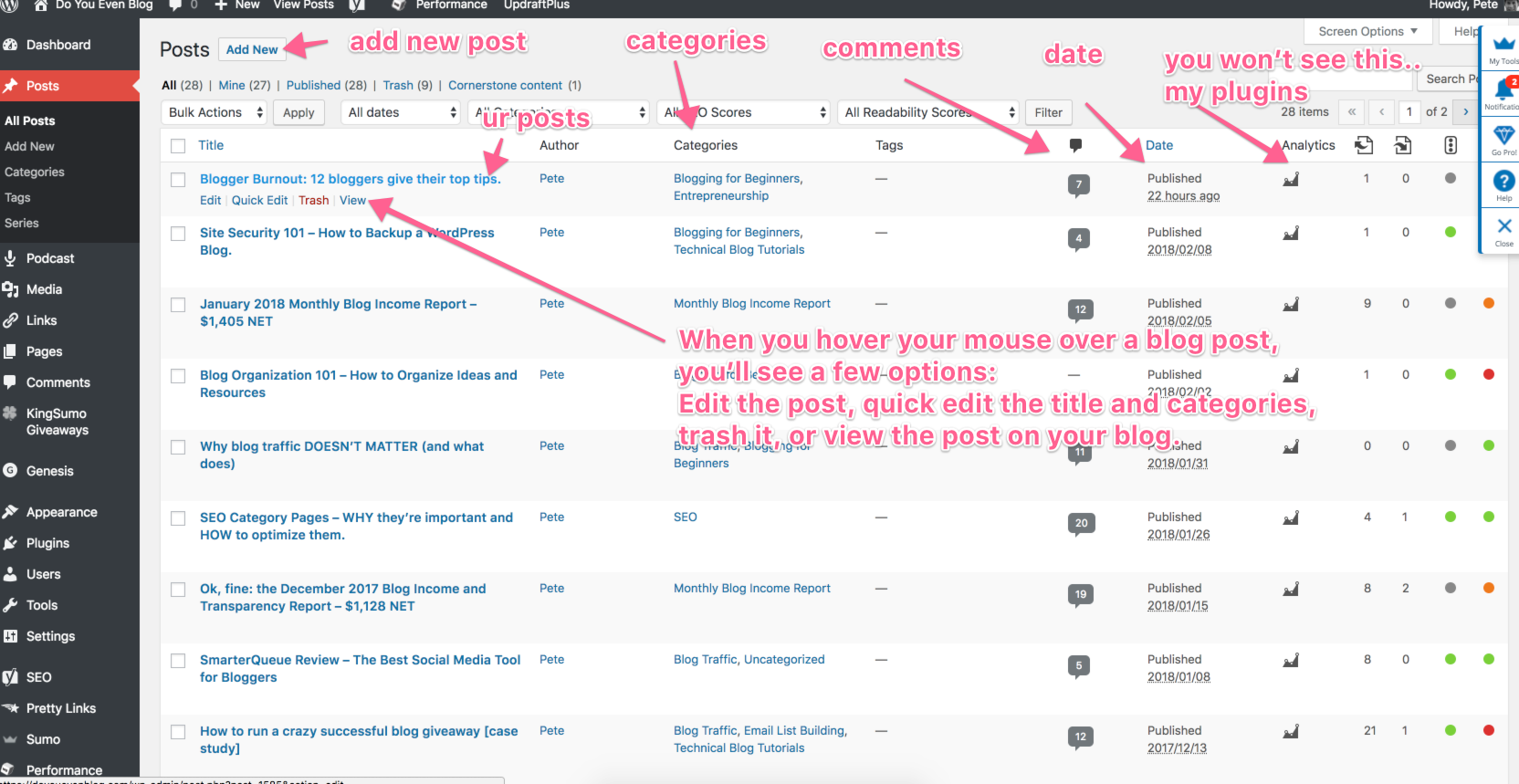 How to create pages.
Good news! The exact same way as posts 🙂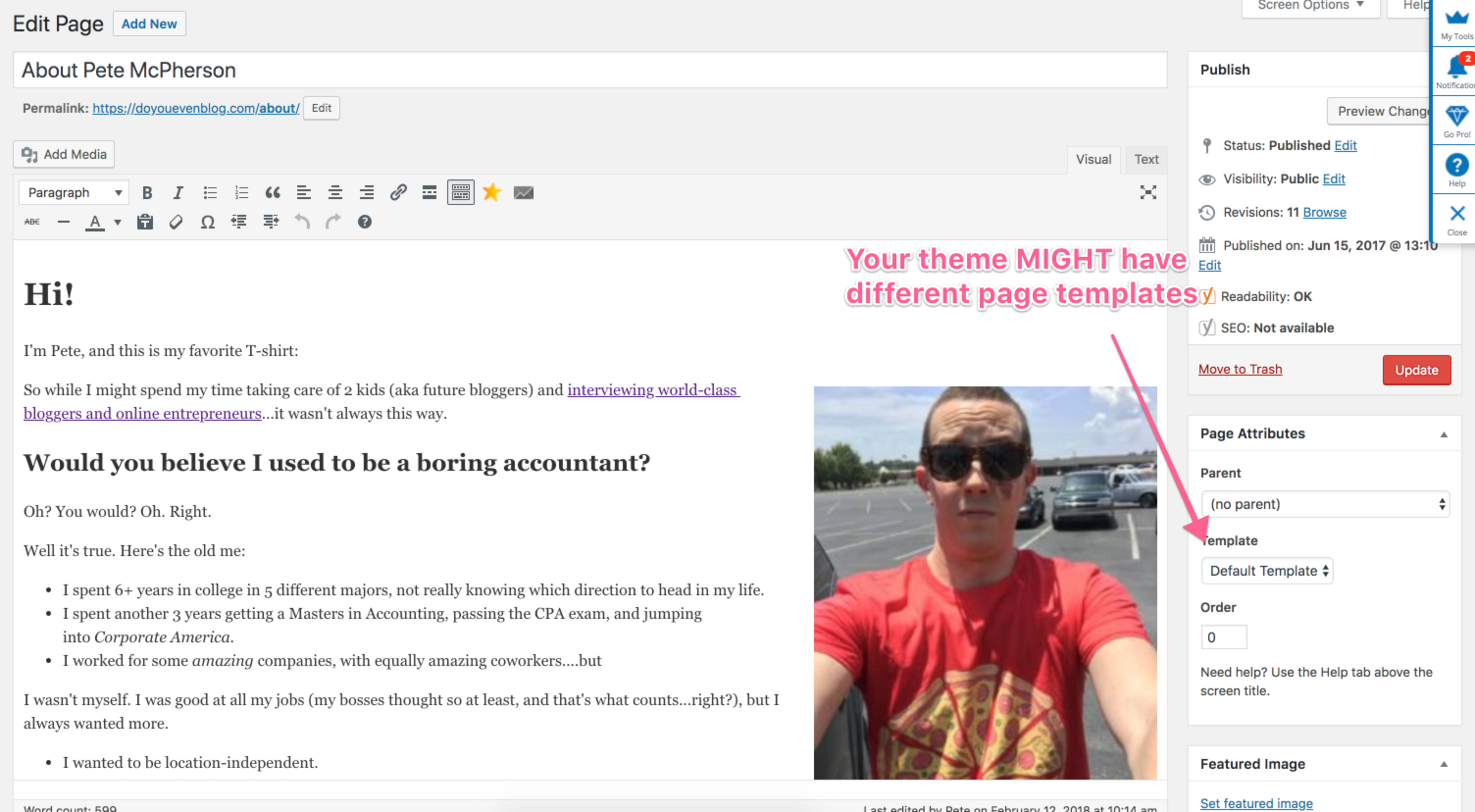 So, I'd ALSO suggest you create 2-3 pages right now, assemble a menu, and THEN choose a theme.
You'll want to be able to see what that looks like. Here's what I'd suggest you do:
Create an about page (like mine above).
Create a contact page (you can eventually have a form here using a plugin, but for now just put some text or include the best email to reach you at
Create a BLANK page named "blog." You'll see why in a minute.
Create a BLANK page named "home." Write 1 or 2 paragraphs explaining what your blog is. You'll see why in a minute.
If you've done that, we can create our first menu:
Create your first menu.
In your WP dashboard, click "appearance" then "menus."
That'll bring up this: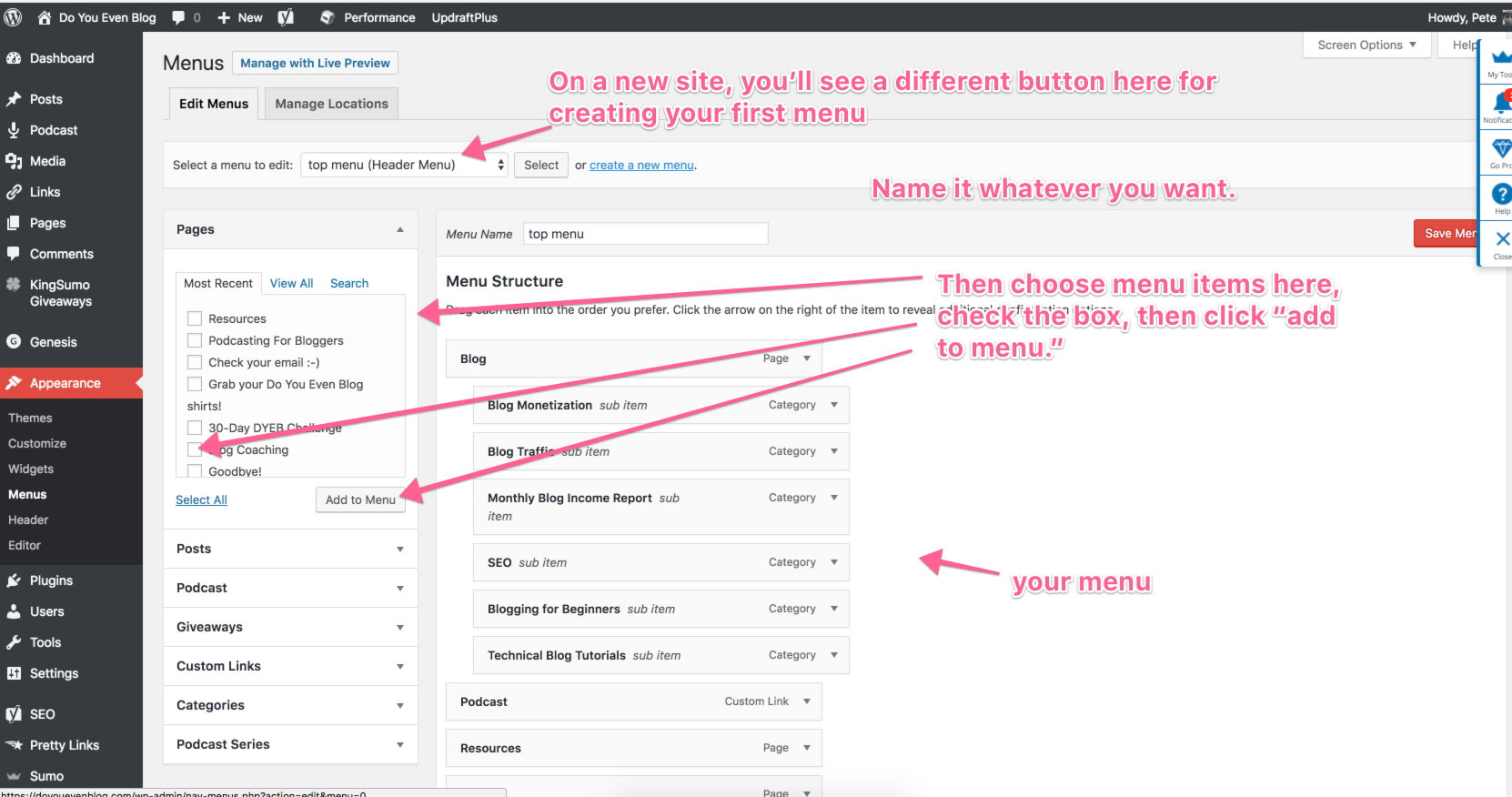 Under the pages accordion thingy, you should see the new pages you've created! Add them to the menu 🙂
As you can see, you can also add individual posts, categories, or custom links to the menu.
Once you have a few items on your menu, you still need to display your menu!
Pro tip: You might have to re-display your menus every time you switch themes. Not sure why.
You can do this one or two different way, but lets' do it in the menu dashboard.
You'll click "manage locations" and find this:

Simple, use the dropdown box to assign the menu you just created to a menu location.
Double-check your site!
So click your blog name in then far upper-lefthand corner of the WP dashboard and go to your home page.
Hopefully somewhere you'll see your menu! Yay!
You MIGHT even see some blog posts in there 🙂
What do you want on the home page of your site?
You have 2 options for your blog's home page:
Your blogroll (I.e. all your blog posts beginning with the most recent)
A static page (a welcome page of sorts, with no blog posts).
Remember when we created pages named "home" and "blog," and left them blank? This is why.
You can choose which option you prefer back in your WP Dashboard under "settings" then "reading."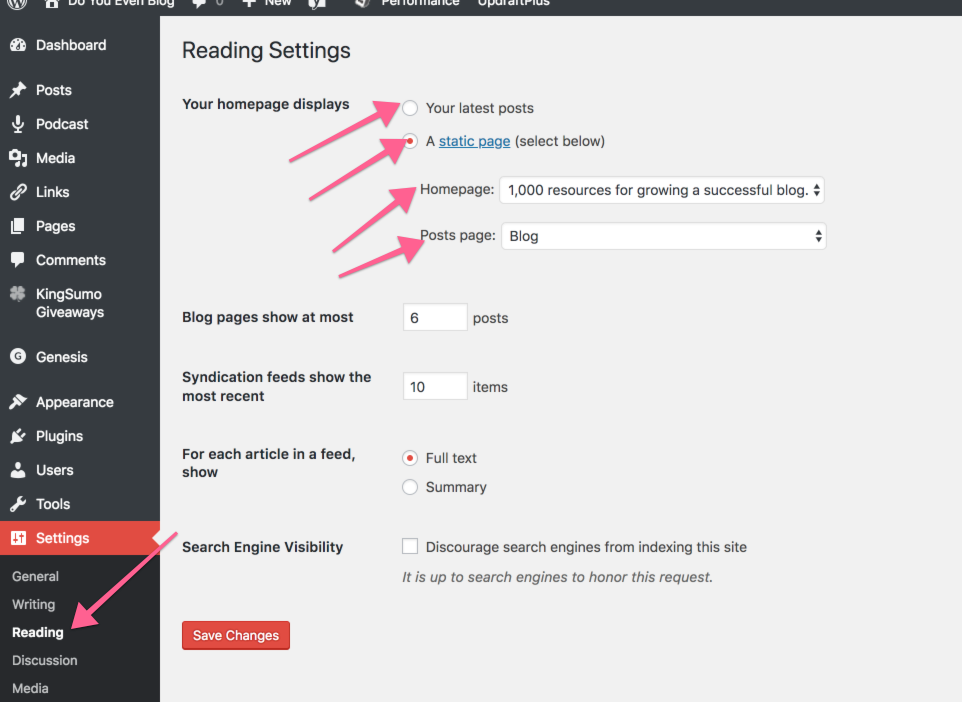 Assign your "home" and "blog" pages to the Homepage and Posts page, respectively. Play around with it and you'll see what it does.
We'll come back to this idea later in the bootcamp, once you've chosen a theme.
Speaking of which….
The next module: finding beautiful and free (or cheap) themes, installing, and customizing!
Whew.
We've already gone over a TON, and we're nowhere near done yet.
I can't stress this enough: be patient!
You'll be learning a TON about website-making and writing over the first few months of blogging, and it'll be a tough exercise not to get overwhelmed! 🙂
We'll do some really fun design-oriented stuff in the next module, see you then 🙂 🙂