Back to: New Blogger Bootcamp [Pro]
So, one of the perks of Bluehost compared to other hosting platforms is that it pretty much does everything for you 🙂 🙂
If you haven't already, let's set it up!
(FYI, in the bonus videos, I bought a new domain and hosting package, blogwire.co, which is why you might see that domain below)
1 – Head to Bluehost and sign up.
Click "get started on the homepage.
Choose the basic, cheapest hosting package. You DON'T need all those extra features right now!! You can always upgrade later as well 😉
Then, enter your domain name you've hopefully already found.
2 – Enter your contact details and select extras.
Enter your info, but you WILL change some of the pre-selected extras.
YOU DON'T NEED THESE.
The only one you MIGHT want to grab is the $0.99/month domain privacy protection. This will simply hide your name and address in the domain database records (which is public information).
That's up to you. I don't care, because my name is already out there, but it can be handy to have.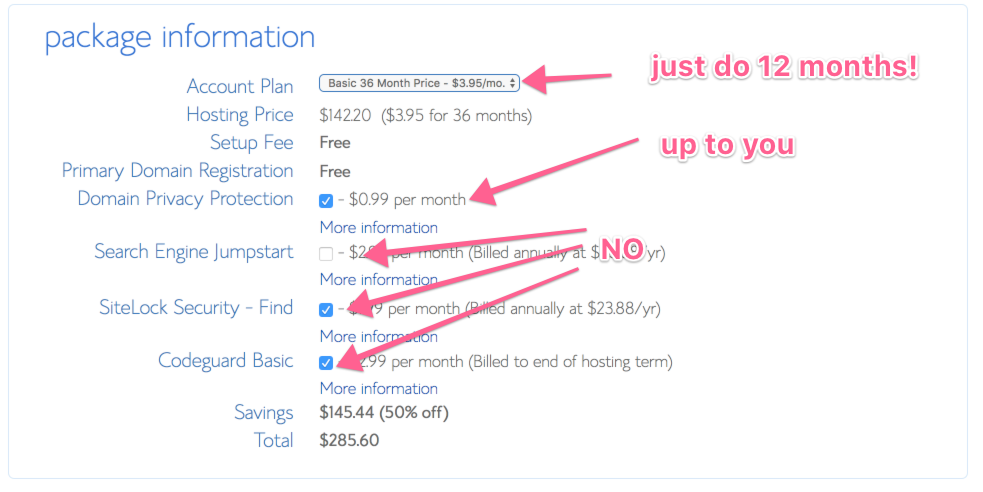 Other than that, just pay for 12 months. It's worth sacrificing the $1/month for a cheaper upfront payment NOW, in my opinion.
You don't need any of the other stuff either. We'll be taking care of those function via better, free plugins later lol.
3 – Enter CC information and pay.
THAT'S IT.
Seriously. Bluehost will take care of pretty much everything else.
They'll send you an email with some advanced information. Save this email somewhere, but you won't need it right now.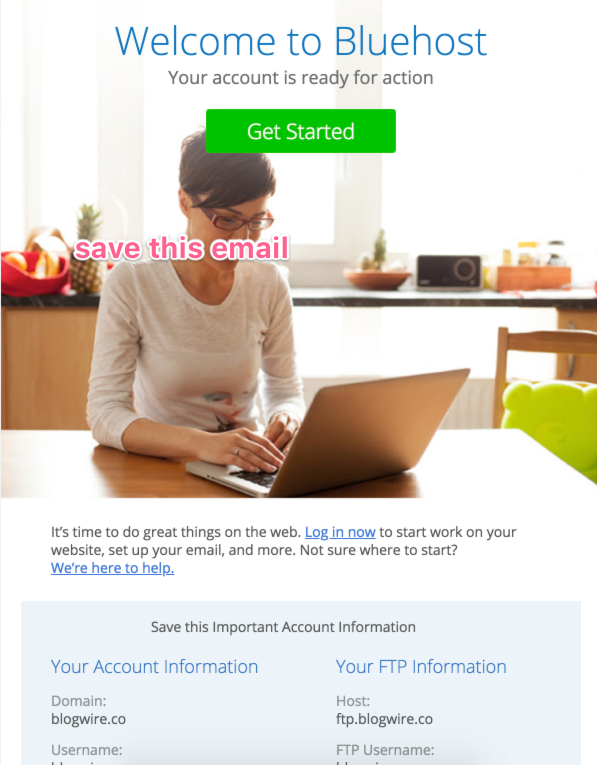 At this point, 2 things will happen:
You'll be directed to your Bluehost dashboard, and
Bluehost will begin installing your domain and WordPress software.
This could take anywhere from 10 minutes to 3 hours, so be patient.
Luckily, BH will also hook you up with a temporary domain so you can go ahead and log-in to your WP dashboard! 🙂 🙂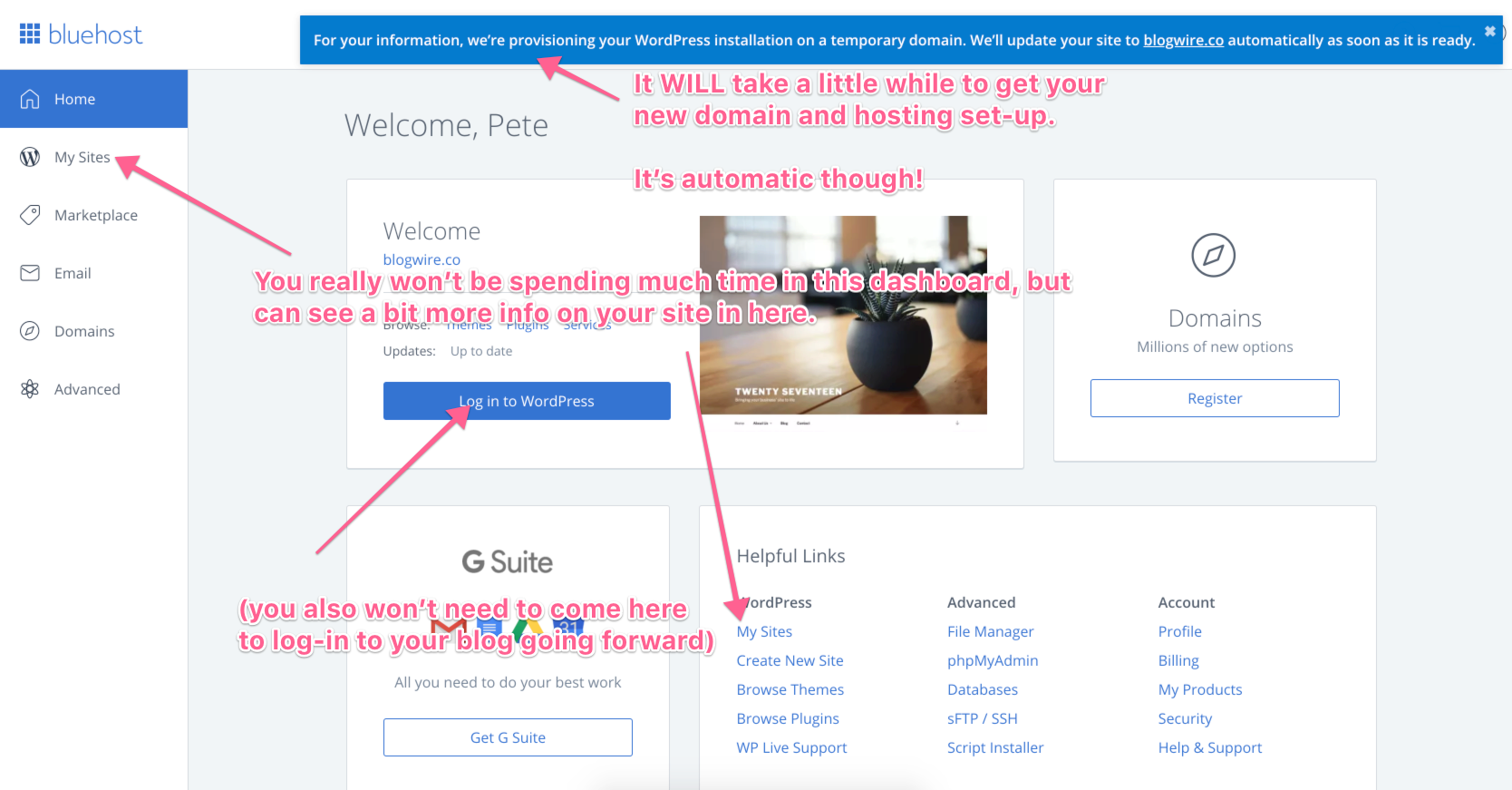 Important notes:
Honestly, you don't need to do much in the BH dashboard. You won't even need to come here to log-in to your WP dashboard…
HOWEVER, I'd click "log in to WordPress" in your dashboard as soon as possible, and change your password! See how below.
Changing your WordPress password and email asap.
Click "log in to WordPress" in your BH dashboard.
You should (I hope) be automatically in your dashboard, at which point you'll go to the top-right corner and hover over "admin" or whatever your name is…from there, you can click to update and view your profile information.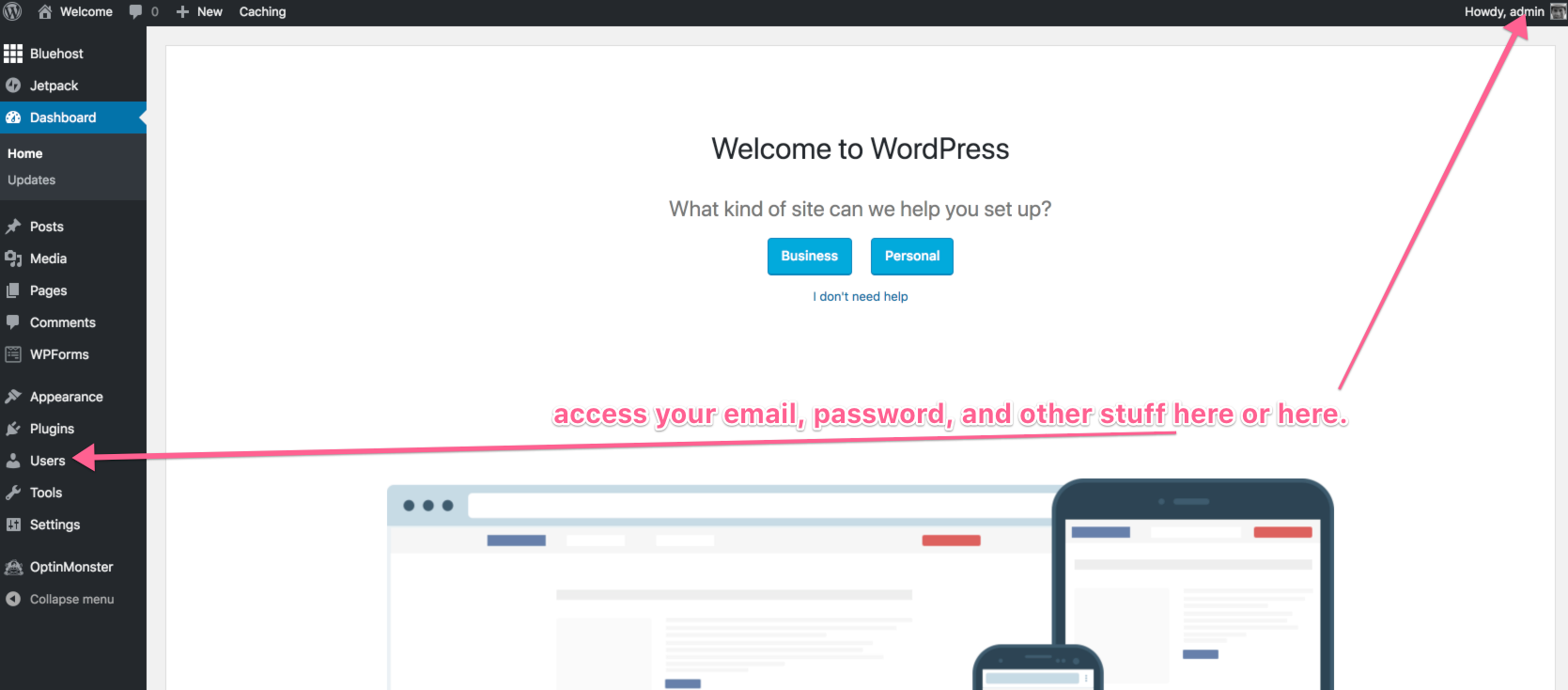 Change your email, and then scroll down to password and click "generate password"
(You can type in your own password, no need to stick to the crazy one they generate.)
NOW you should be able to log-in the normal way to your WordPress dashboard.
Remember this, this is important:
Go to [yourdomainname]/wp-admin
"/wp-admin" is how you'll log-in to your blog from now on. Bookmark it or add it to your favorites in Chrome, etc!

(Note: At first, you'll probably be redirected to your temp domain site until BH finishes your install)
After about 10 minutes, I noticed that my domain homepage actually looked like something…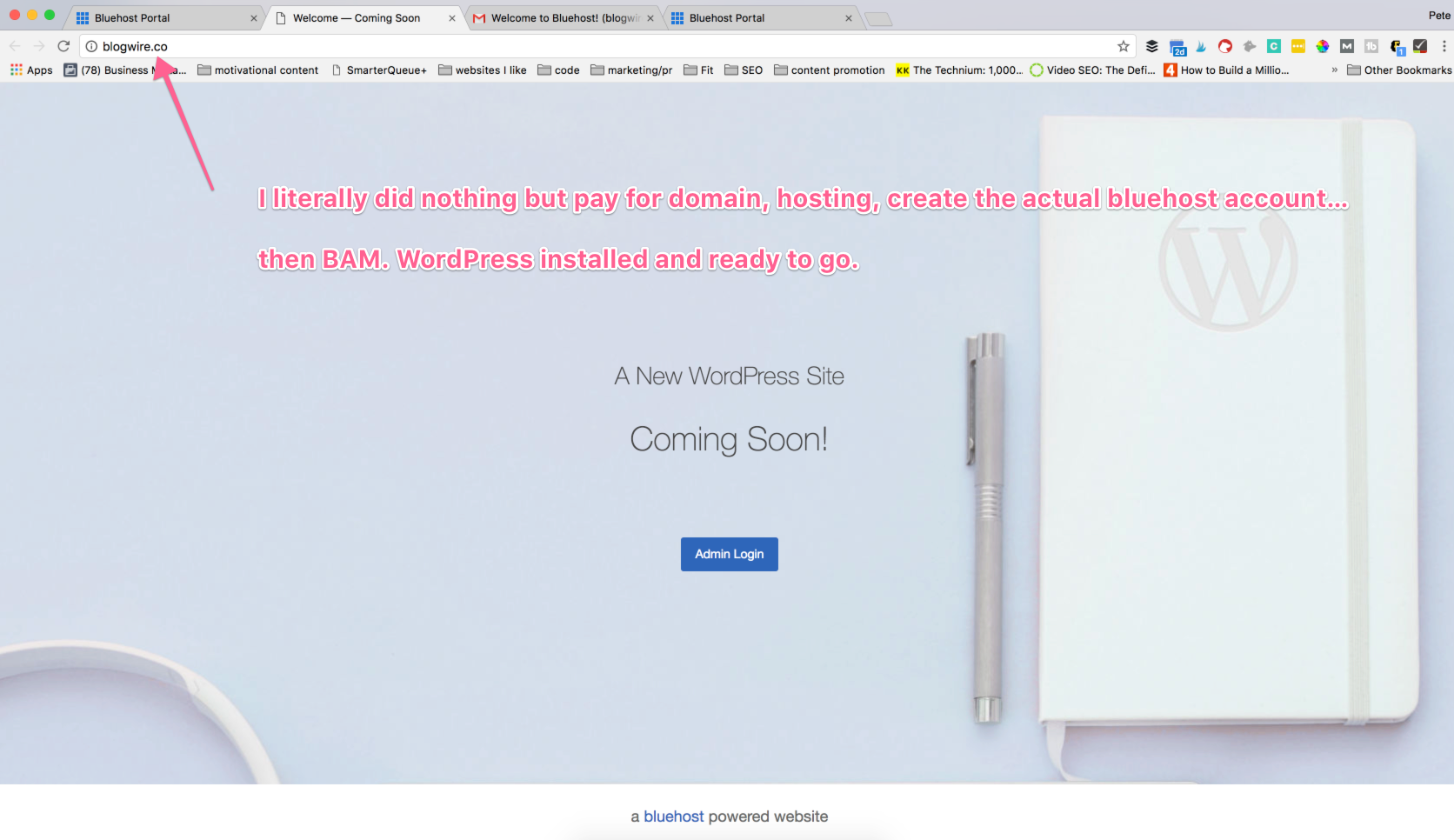 Yay!
Literally, I signed up for Bluehost, paid them, and they installed everything and set it up for me.
Pretty stellar.
FAQ – Do other hosting platforms do this? No, they do not. On Namecheap, Godaddy, Siteground, Hostgater, etc….you will have to navigate to your cPanel and install WordPress manually. It's still super easy, but just know that they don't do it for you.
In fact, you can still access normal cPanel settings in BlueHost as well if you ever need to, but clicking "advanced" on the left menu bar in your BlueHost dashboard.
Sweeeeeeettttt we have a blogggggg!!!!!