Back to: New Blogger Bootcamp [Pro]
Ok, so a warning: If you have NOT gotten WordPress installed, do that first. If you're a new blogger and honestly having trouble with that…first ask the FB group for help, then email me if you still need something.
First, here's what you need to know about getting overwhelmed with WordPress.
It's GOING to happen. If you're new here, you WILL get overwhelmed and frustrated at some point. There's a 100% chance.
However, it's like riding a bike. You only have to learn once. It DOES get easier. Hang in there, you're in this for the long-haul.
So be patient.
Here's a tour of the most important parts of the WordPress dashboard.
As we go through the bootcamp, you'll learn more and more, but just so you don't get overwhelmed right now…we're just going to hit the highlights: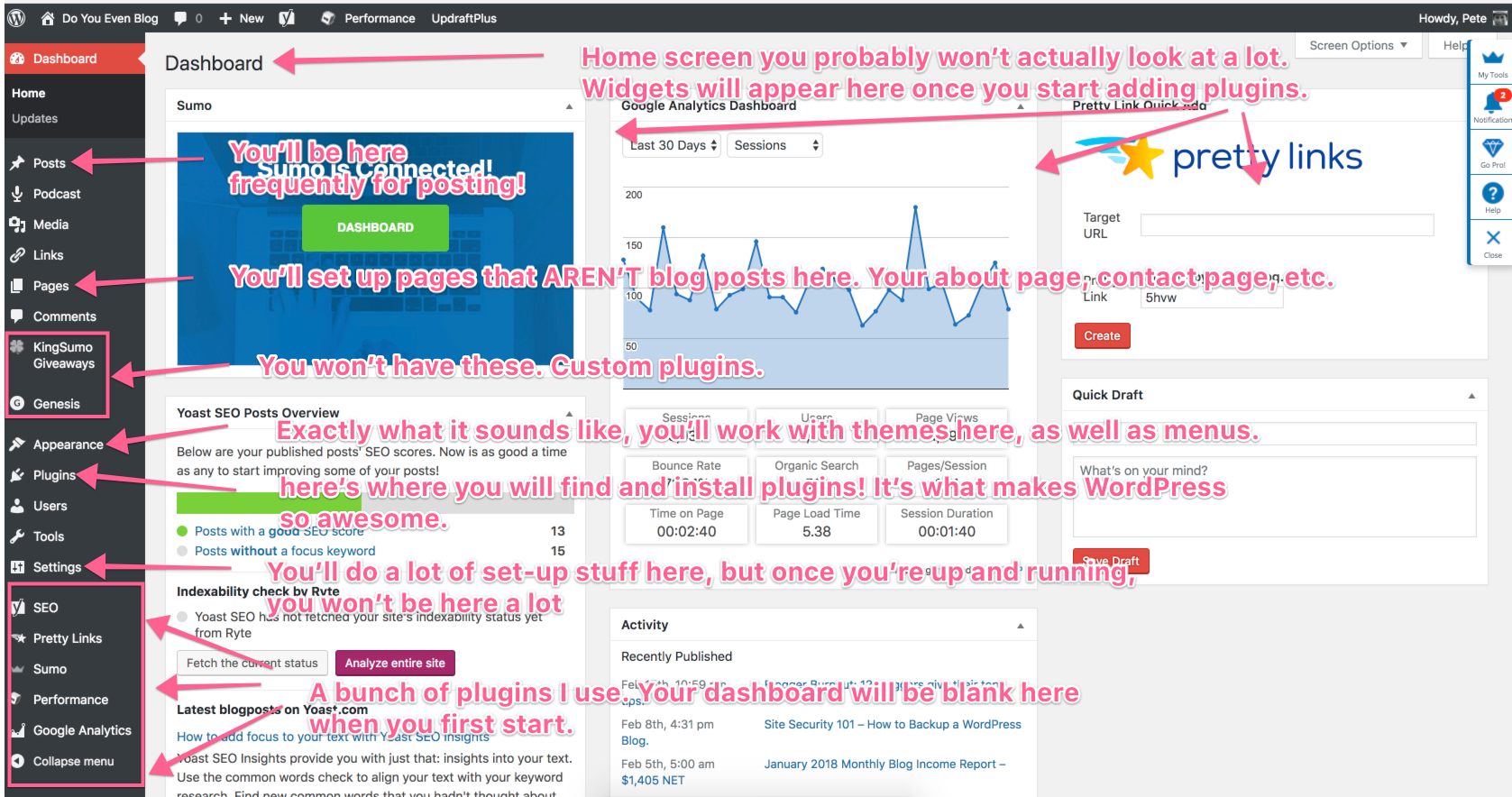 Your blog name at the top – This will take you to your homepage! (And once you're there, the same button will take you back to the dashboard)
Posts – Here is where you will be able to create and publish new blog posts, view all of your published posts, and also manage blog categories.
Podcast – You won't see this in YOUR dashboard, but this is an important point: The side menu in the dashboard will eventually show the settings for various WP (short for WordPress) plugins 🙂
Links – Ignore this for now. You might not ever even click this.
Pages – Similar to posts, here's where you can create and manage your blog's "pages," such as "About Us" or "Start Here" or "Contact," etc.
Comments – When people comment on your blog posts, they'll show up here for you to approve, deny, mark as spam, reply to, etc.
Appearance – Where you customize the look of your site, your theme, and menus. More on this in a second.
Plugins – What makes WordPress so amazing. Plugins are little addons to the WordPress system that perform various functions. We'll dedicate an entire module to these soon.
Settings – Exactly what it sounds like, controls broad settings for your website. We'll dive in here in a second.
How to choose and install a WordPress theme.
Choosing a theme
Please please please listen to me right now. start simple!
You'll thank me a week from now.
If you have no WordPress or HTML/CSS experience, the single best thing a new blogger can do in a WP theme is choose something they like "right out of the box."
I.e. right now, choose a theme you don't HAVE to customize a lot.
Ok, let's find one of those:
There are 1,000,000,000 WP themes on the internet, and it can be tricky to find one you're happy with at a good cost. (Most are free btw).
Free themes
Head to WP Dashboard – Appearance – Themes and click "Add New"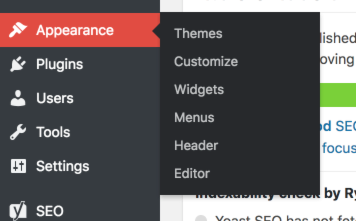 then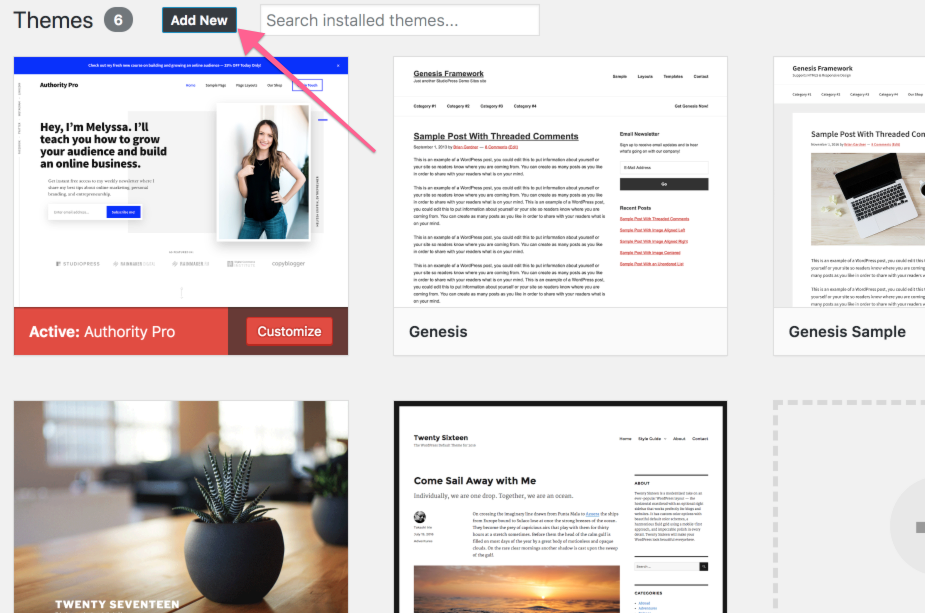 ALL these themes will be free–but be warned, some might include limit features and want you to pay for a "premium" version of the theme.
:-/
If you do find one you like here, simply click "Install," and once that's done, you'll see a button for "activate." Click it, and your theme is technically installed (though it'll look terrible, as you haven't customized it yet).
More on customizing in a second:
FAQWhat do I NEED from a WP theme? You need to be satisfied with it (even though it WON'T be perfect), and you need the ability to quickly get up and running. Simple or "minimal" themes are best for this.
Here's a pro tip for complete beginners: When choosing a theme, look for one where the preview contains a lot of white, and looks LESS fancy.
You'll add more complicated stuff later, but it's wise to START with something extremely simple and minimal.
Here are a few posts highlighting amazing free themes:
30 Most Popular Free Minimalist WordPress Themes 2017 – Colorlib – These are solid, and most are findable in the WP theme dashboard.
10 Free Ultra Minimalist WordPress Themes – WordPress Tavern – These are SUPER minimalist.
FAQ – How are they "default" WP themes? WordPress makes a new "default" theme each year, and they are AMAZING. They are simple, easy to get started on, and offer the latest features…because they're literally built by the same team that created WP. More new bloggers should use them. When you first install WP, you'll have a few already in your theme dashboard.
Why paid themes *can* be awesome.
I use nothing but paid WP themes these days, for two reasons:
I have money to spend on them. (If you don't, don't!)
They usually come better "out of the box," meaning I have to do less customization.
Here's my general tip for purchasing PAID WP themes: do NOT buy from theme "marketplaces" that sell thousands of different designer's themes. DO buy straight from theme design companies.
The quality will be better, and their support will be WAY better.
Here are my two go-to recommendations for simple-is, beautiful, and functional paid PW themes:
StudioPress – This firm makes amazing themes built on the Genesis framework. I use the "authority pro" theme they make. It cost me less than $100 total.
Elma Studio – Ellen is an amazing WP theme designer, and you can literally get ALL of her WP themes for something like $50. That's like, 20 different themes. And they're amazing.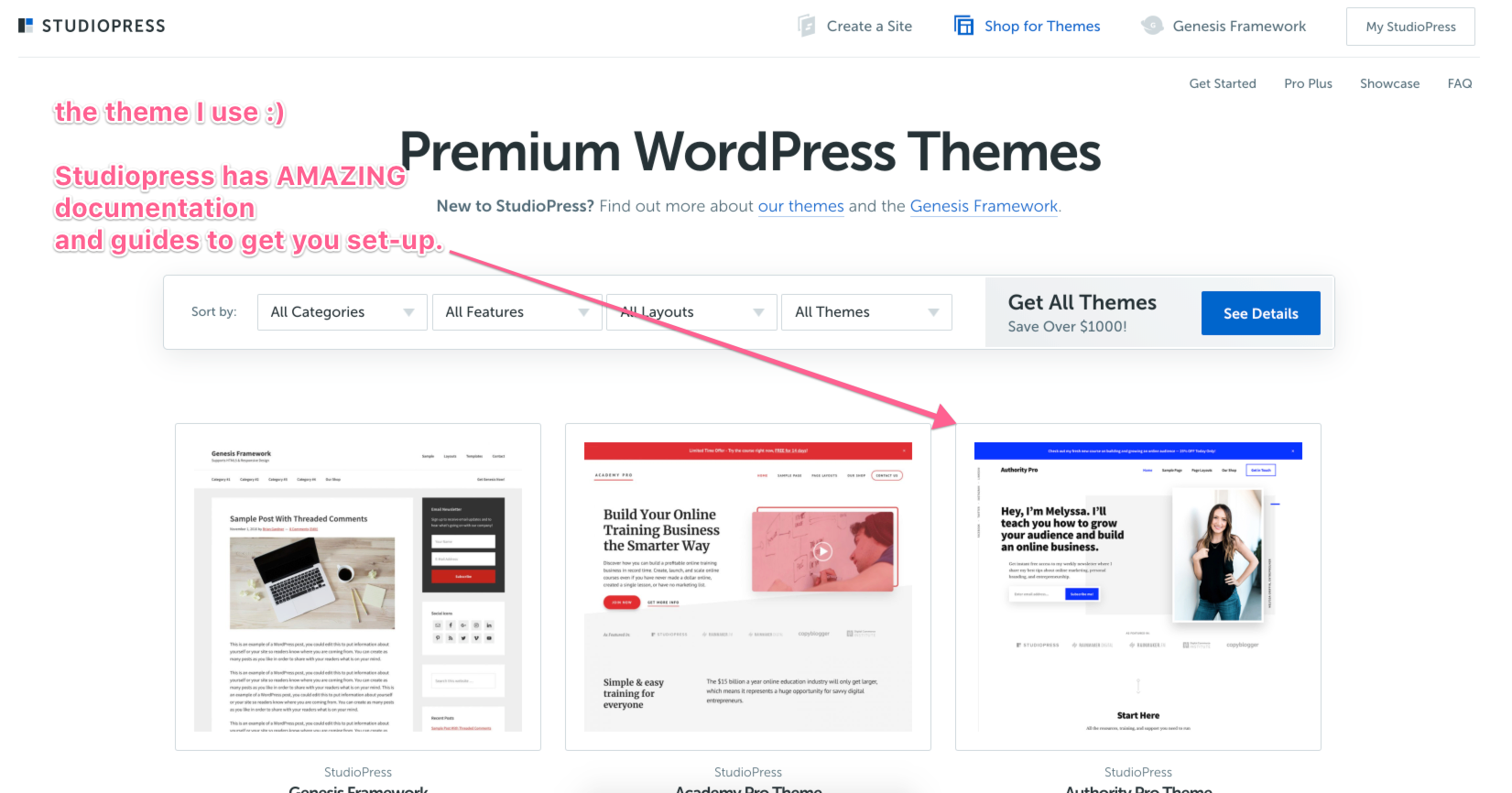 How to install 3rd party WP themes
If you purchase or otherwise grab free themes from around the internet, you'll be downloading theme in a zip file format.
Installing is super easy, and there's no need to extract the zip file…you just upload it as is in the WP "add new" theme dashboard.
You'll simply click "upload theme" and upload the entire zip file. Done.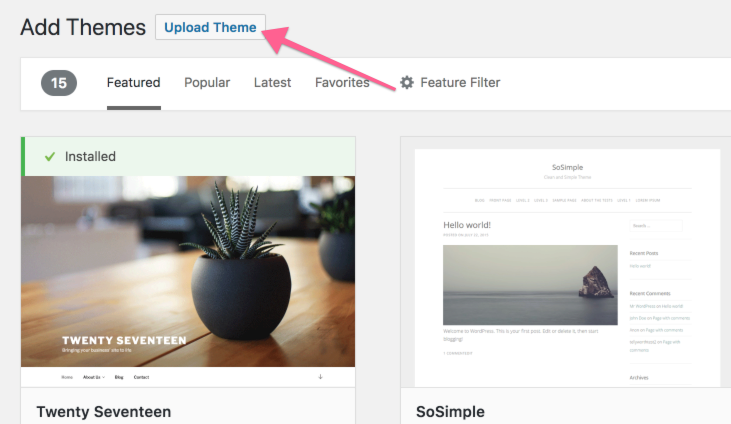 Customizing your theme
Good news bad news:
Bad news – Every theme is WAY different, so you'll have to figure a lot of it out for yourself 🙁 🙁
Good news – You really only have to do this process once, then your set and can focus on, ya know, blogging.
The WordPress Customizer
Access this under WP Dashboard – Appearance – Customize.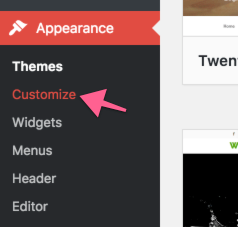 That will bring up the live customizer: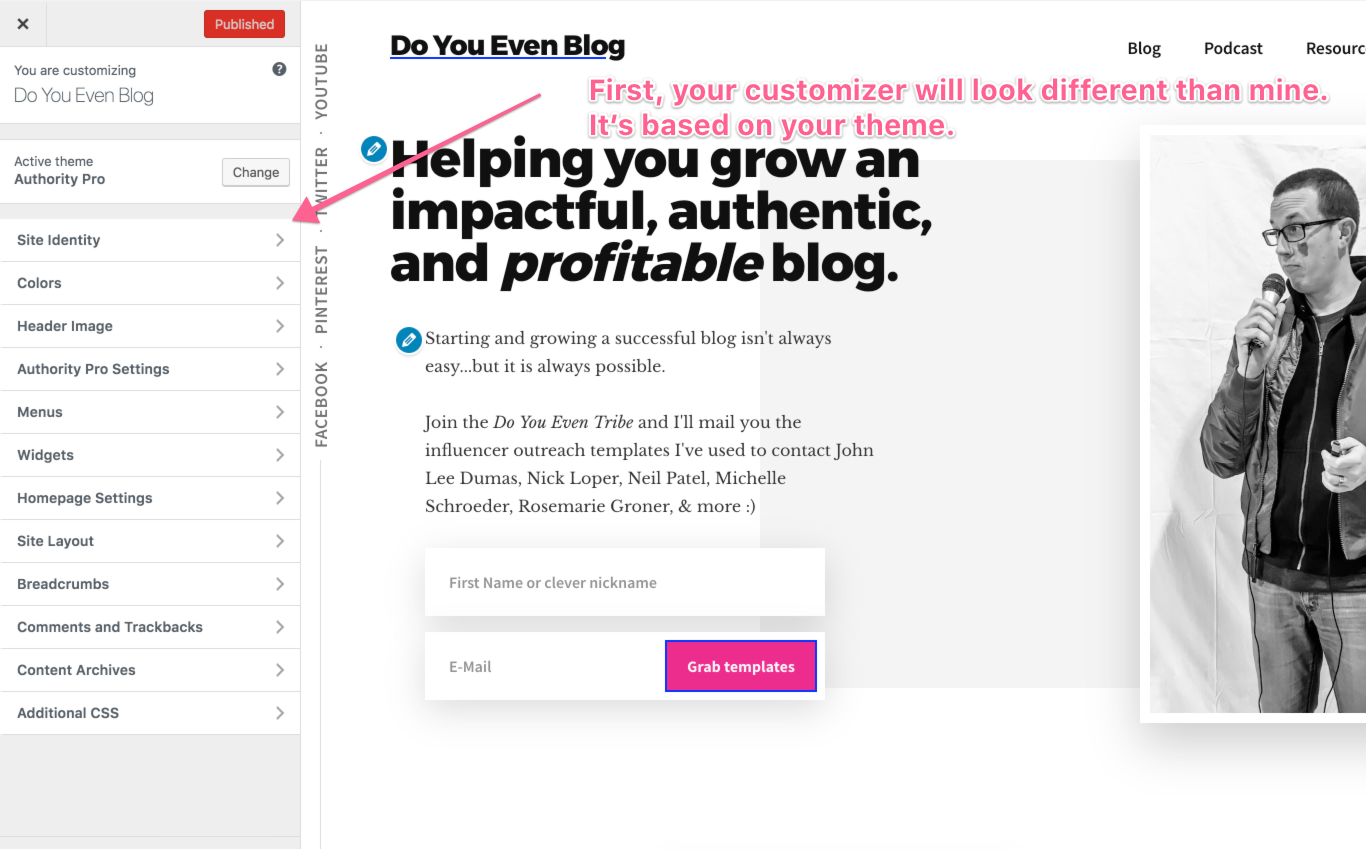 This is where you'll be able to shape most of the look and feel of your blog's theme.
FAQ – Where do I START? This is why we recommend starting with a theme you like the look of…in the theme demo. I.e. "out of the box." The less you have to change and customize the better. Still, it's best to start with menus, sidebars, and widgets
You'll be diving alllll through this section in the first month or two of blogging, and it's important to remember that you WILL get frustrated at some point 🙂
It's a learning experience!
That said, if this is your first day in WordPress, and you have installed a random theme you saw and liked…here's what you SHOULD do today:
Site Identity
This is important. If it's not in there already…add the name of your site under site title, and an optional tagline.
Don't bother with the site icon for now (though if you already HAVE a logo, great. Resize it to 512×512 pixels and upload it there.
Menu
You kind of already did this in the last module hopefully 🙂
Homepage settings
Remember the last module when we talked about switching up which is on your homepage, blog posts (the blogroll) or a static page? You can switch that here too.
Widgets
Go ahead and play around with the widgets. You'll see a bunch of really random things to choose from that won't mean much right now.
As you start to add content, build an email list, and install plugins, you'll start to figure out which widgets you should put where.
Ok, that's enough for today. Your homework is to find a theme you like and install it.
It'll take you a while to design it just so you like it…so that doesn't have to be perfect right now.
You just need to figure out how to publish and get some menus in place 🙂